How to Perform at Carnegie Hall
Last week I was in New York City to perform at what is one of the most exclusive classical music venues in the world, Carnegie Hall.
I'll be answering one question today, "How do you perform at Carnegie Hall?"
Here was the schedule for the entire cycle I played with in this fun Opera/Pop crossover group:
Tuesday Rehearsal - 2 hours
Thursday Rehearsal - 2 hours
Saturday 
6:30 AM - wakeup
8:00 AM - Bus Pickup in New England
11:45 AM - Arrive in New York
2:30 PM - Rehearsal 
5:00 PM - Dinner Break
7:30 PM- Performance in Zankel Hall
10:00 PM - Back on the bus
Sunday 
1 AM - Drop off in New England
You might be thinking, "That is quite the schedule all in a day's work to perform at Carnegie Hall..."
When you're on tour with a group, this is a typical schedule that you might experience. Luckily this was a mini-tour down to NYC so it wasn't a commitment for months at a time. But many musicians who are on the road have a pretty similar schedule compared to the one I outlined above. 
The opportunity to perform at Carnegie Hall is a dream that many classical music students aspire for.
We've all heard the famous story. How does one get to Carnegie Hall? "Practice, practice, practice!"
This is a pretty simple answer. But having been out of music school for some time now, I realize that getting to perform at Carnegie Hall requires a combination of three things (one of them includes practice, but I will get to that in a moment.)
1) You need to be passionate about music
What does being passionate about music look like? Everyone has a different idea in their had about what that means. For me, it's knowing that I can't imagine myself in any other profession than the one I'm in right now. I knew early on in my life that music was a major part of who I am. It's a part of my identity. 
My guess is that if you're thinking about performing at Carnegie Hall one day, then you're serious about becoming a professional musician. Here is the thing, you need to be so passionate about music that you live and breathe it every day of the week. If all you think about is playing your instrument or wanting to get better at playing your instrument, then you're on the right track. 
Now, I'm not saying you go bonkers and obsessive about the whole process. This is, of course, a balancing act with you mental and emotional well being.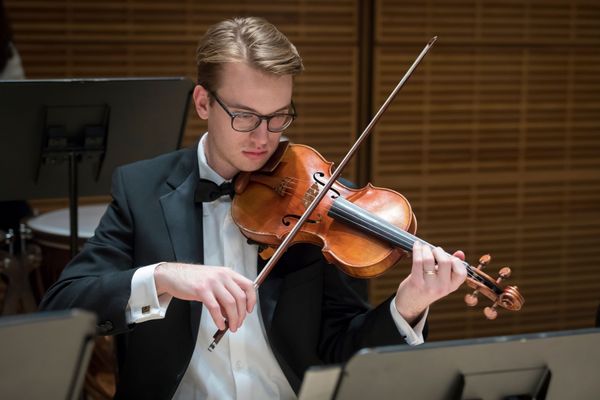 PC: Julia Cumes Photography
2) Love the process of being a musician
There is one thing about being passionate about music, but it's also the process of being a musician. What does that look like?
- Do you enjoy practicing?
- Do you enjoy going to rehearsal?
- Do you feel excited or energized after performing or attending a concert?
If you said yes to all of them, amazing!
If not, then I would ask yourselves these questions and see if you can find the underlying problem. While I'm here to tell you my three points about getting to Carnegie Hall, it's not all glamorous as one thinks to get to perform there. 
There will be days where you do not want to practice. There will be days where life throws you a monkey wrench and you don't have enough time in the day to get your practicing done. 
To me, I feel my happiest when I'm holding my instrument. I remember working non-musical jobs to make ends meet that didn't require holding a violin. It made me upset whenever I couldn't play my instrument, even if it was for 5 minutes. 
However, the love I have for music help understand that this whole process is a marathon and not a sprint. Even if it means touching my violin for 5 minutes, it's 5 minutes more than practicing 0 minutes. 
3) Practice doesn't make perfect
Practice doesn't make perfect, it makes permanent. 
This does not only pertain to violin playing, it's also your behavior towards having a music career. 
If you make a conscious effort to apply the needed skills that will help you succeed on a daily basis, then you will create success for yourself as a musician.
Aristotle says this, "Excellence is not an act, it is a habit."
Practice isn't a one time act, it's a daily reminder that there is always something to improve in ourselves as violinists, and as people. Being perfect is impossible, but striving for perfection what we ought to always aim for. 
--
I hope this blog post was valuable and if you liked what you read or watching, subscribe to my YouTube Channel down below for video tutorials, vlogs, and more!
YouTube - https://www.youtube.com/emrugala